As Mika Zibanejad has struggled to find his game and the Buffalo Sabres have struggled overall, the Jack Eichel-to-the-New York Rangers rumor mill has ramped up in recent weeks.
Getting Eichel to Broadway, however, will likely prove to be a major undertaking. The star center will cost a mint, both in trade capital and his $10 million salary-cap hit. Even so, general manager Jeff Gorton is sure to continue to inquire about the feasibility of acquiring the second pick in the 2015 NHL Draft. That, after all, is his job.
There might be an alternative path to addressing the Rangers' deficiencies at center, though, one that would be considerably less expensive: Gorton might want to seriously consider pursuing Edmonton Oilers pivot Ryan Nugent-Hopkins, who will be an unrestricted free agent this offseason.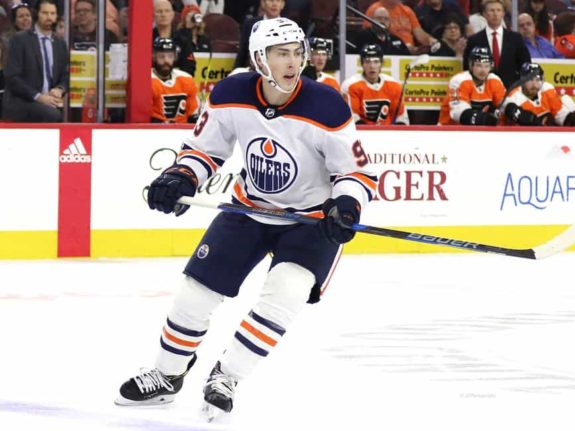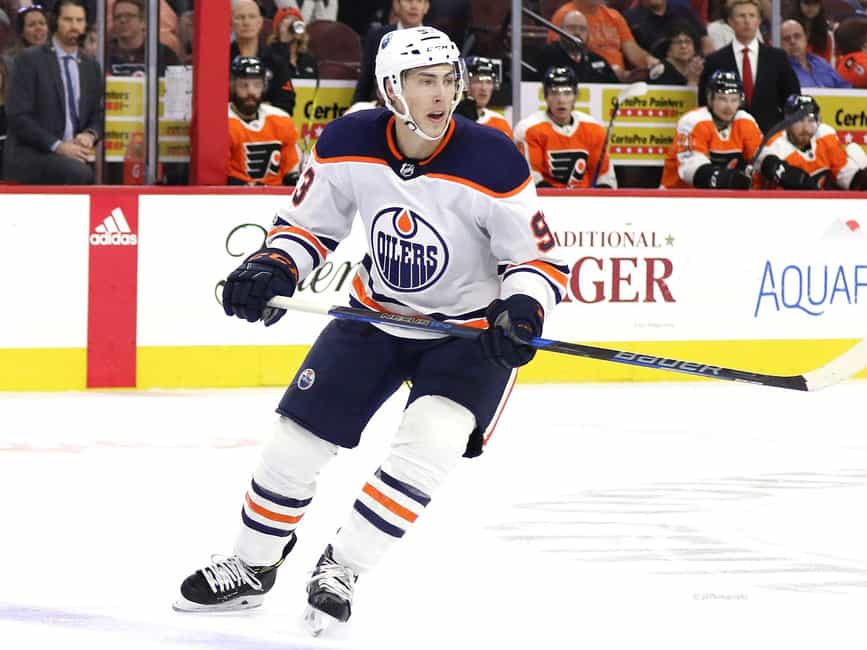 Before the howling starts, let's note that this approach only works if Zibanejad regains the form that established him as a clear No. 1 center over the past two seasons. Considering his goal and point totals have risen each of the last three seasons, highlighted by a 41-goal, 75-point effort in 57 games in 2019-20, it's probably safe to say that Zibanejad didn't suddenly forget how to play hockey. His six points through 18 games of 2020-21 are much more likely the result of contracting COVID-19 just prior to training camp, which also disrupted his preparation.
If Zibanejad's regression becomes permanent, that raises a bigger issue in the Madison Square Garden executive suite. However, assuming the player drafted five spots after Nugent-Hopkins went No. 1 overall in 2011 finds his game, the Rangers will be back to planning to sign him long-term. Zibanejad's below-market contract that runs through next season would likely jump from his current $5.35 million cap hit to around $8-9 million.
That would lock down the top center slot, but it's the lack of depth behind Zibanejad that's threatening to become the real problem.
Nugent-Hopkins Could Be Perfect Fit for Rangers' Needs
That's why Nugent-Hopkins might be a really good fit. Despite being drafted first overall, he isn't a star, never growing into the elite offensive talent that teammates Connor McDavid and Leon Draisaitl, drafted years after Nugent-Hopkins, have become.
When you get past his draft position, though, the Rangers would be adding a very consistent producer who's scored more than 20 goals in each of the last three seasons – and who, at 27, might be getting better as he enters his prime.
Nugent-Hopkins recorded a career-best 69 points in 82 games in 2018-19 and 61 in 65 games in the shortened 2019-20 season. Though not dominant at the faceoff dot, he reached 50% for the first time last season before falling into the 30s in a limited sample size this season – and it's worth remembering he mostly plays on McDavid's left wing, so there are fewer faceoff reps. He's also a strong power-play performer, with 46 goals and 115 assists coming with the man advantage – including five goals and seven assists this season.
Naysayers will argue, fairly, that Nugent-Hopkins' numbers benefit greatly from his regular partnership with one of the NHL's most dynamic players. That situation, however, would have a good chance of being replicated in New York, where he'd likely find himself on a line with Artemi Panarin and maybe Alexis Lafreniere or Kaapo Kakko, the two high-ceilinged kids who are looking to continue finding their footing. Nugent-Hopkins has certainly had plenty of training in how to play with superstars in Edmonton.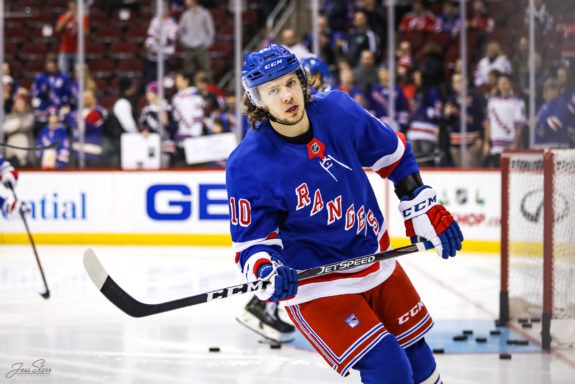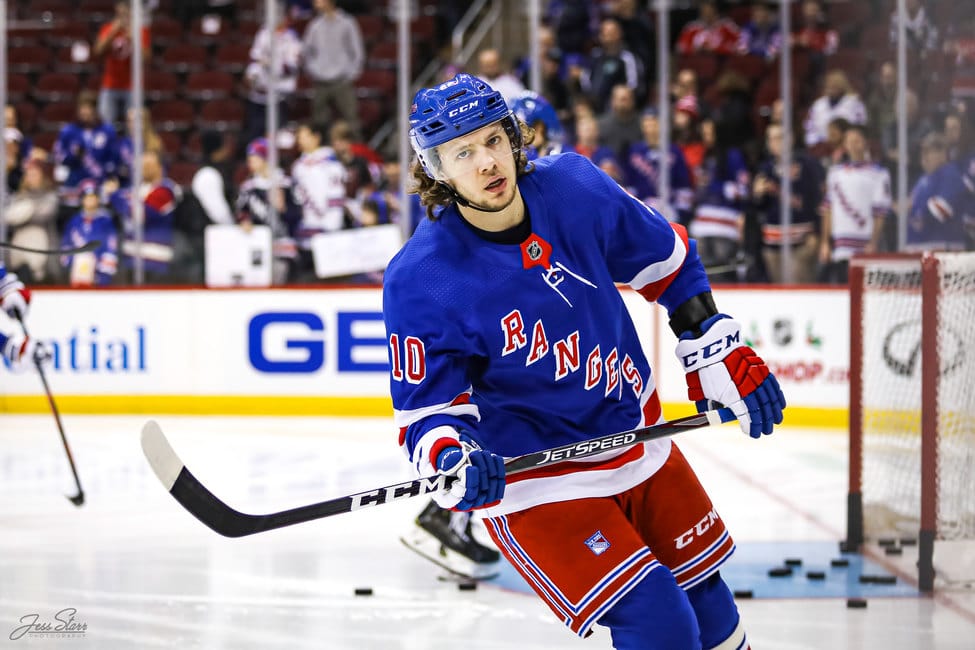 So would sliding Nugent-Hopkins onto the second line with Panarin and one of the young wingers be the right long-term solution for the Rangers? As mentioned, it's a much less costly option than attempting to acquire Eichel, for whom the Sabres will try to extract a fortune should the 24-year-old request a trade out of what has reportedly become a frustrating situation for him.
Buffalo might ask for a package fronted by Lafreniere or Kakko and perhaps rookie defenseman K'Andre Miller, and it wouldn't be out of line to do so. Likely to have multiple suitors for a player who piled up 160 points in 145 games over the past two seasons and is off to a strong start in 2020-21, the Sabres would have the leverage to drive up the price.
As such, is Gorton prepared to ship out Lafreniere, the top overall pick last year, or Kakko, taken No. 2 in 2019? Will he deal away Miller, the rookie revelation in possession of freakish physical abilities who looks like he could be a future No. 1 defenseman? How about young center Filip Chytil, who might be on the verge of a breakout? Trading any of those players makes the deal pretty painful, even with a commodity like Eichel coming back the other way.
Gorton would probably prefer to lead a trade package with Vitali Kravtsov, the ninth pick in the 2018 draft, and future picks, but that almost certainly won't get it done if the Sabres have multiple teams bidding on Eichel. If the Rangers are able to convince the Sabres that Lafreniere, Kakko, Miller and Chytil are off-limits, does Buffalo pivot to top defensive prospects Nils Lundkvist and Braden Schneider, both of whom the front office envisions playing key roles on the Rangers blue line soon? Acquiring Eichel is going to be a very expensive proposition, no matter how Gorton gets there.
Nugent-Hopkins doesn't have the ceiling of Eichel. The choice here depends on what the Rangers are looking for.
Unlike Eichel, Nugent-Hopkins isn't a top center. He's a perfect No. 2; a player who delivers dependable offensive production and is a strong two-way player who would create stability and depth down the middle behind Zibanejad. With Chytil beginning his fourth NHL season strong and now nearing a return from the upper-body injury that has kept him out since Jan. 24, the center position wouldn't look quite so destitute. Even if Chytil were to eventually surpass Nugent-Hopkins for the second-line assignment, the Rangers would remain solid down the middle with strong options for the top nine – something they can't claim as currently constituted.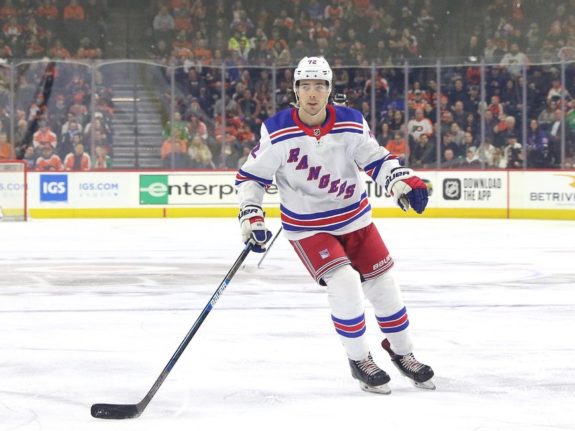 As a UFA, the Rangers or any other team will end up overpaying for Nugent-Hopkins. His cap hit in 2020-21 is $6 million; figure on him getting $1-2 million more over six or seven years from a team other than the Oilers. Still, he'd only cost money and not low-salaried, highly-talented potential young stars and draft picks, as Eichel would. If the Rangers trade Lafreniere or Kakko and Miller along with others to acquire Eichel, stripping out the top-end talent of their rebuilding project that took three years to accrue, how great is the net gain for one player, albeit a very desirable one? Is there a net gain at all in that scenario?
Move to Broadway Might Continue Nugent-Hopkins' Upward Trend
It's also worth keeping in mind that the Rangers already have second-line center money baked into their payroll. Ryan Strome, signed through next season but not expected to be a long-term solution, carries a $4.5 million cap hit. Assuming he'd be traded should Nugent-Hopkins be signed, the club would only be paying perhaps $2-3 million more for a better player.
That would save the Rangers money over Eichel's $10 million hit, on a contract that runs through 2025-26. In a flat-cap NHL world, that's precious – with the club theoretically ending up with $25-$30 million of space with a Nugent-Hopkins signing, Strome trade and buyout of Tony DeAngelo in June. The Rangers' gaggle of young talent will see their entry-level contracts expire over the next few seasons, so that cap room will be much-needed.
Adding to the appeal of Nugent-Hopkins, it's possible that he's in the midst of a late bloom. He's been nearly a point-per-game player since the start of last season, with 79 points in 86 games (nine goals and nine assists in 21 games in 2020-21) over that span, bettering his career mark of 0.7 per contest coming into the 2019-20 season. The Oilers might not be able to extend him, either; they need help on the wing, and adding another big contract to McDavid's $12.5 million cap hit and Draisaitl's $8.5 million figure – for a center playing out of position, nonetheless – could severely hamper their ability to deepen and improve their roster.
Could a change of scenery allow Nugent-Hopkins to continue his upward trend? He certainly has had success with the Oilers, but the native of Burnaby, British Columbia has always carried the burden of being a No. 1 overall pick by his team. That fellow No. 1 pick McDavid is the superstar fans hoped Nugent-Hopkins would become might have put undue pressure on the latter at some point, although we'll avoid getting too deep into armchair psychoanalysis.
In any event, Nugent-Hopkins wouldn't carry that mantle with him to the Rangers, who didn't draft him first overall – and he'd also return to his natural role in the middle. He'd just be the player they signed to help fill a hole. Perhaps being in a clear supporting role centering the second line, and not riding shotgun on McDavid's wing, would be a perfect situation for Nugent-Hopkins to continue unlocking the talent that led to him being the consensus top prospect in the 2011 draft.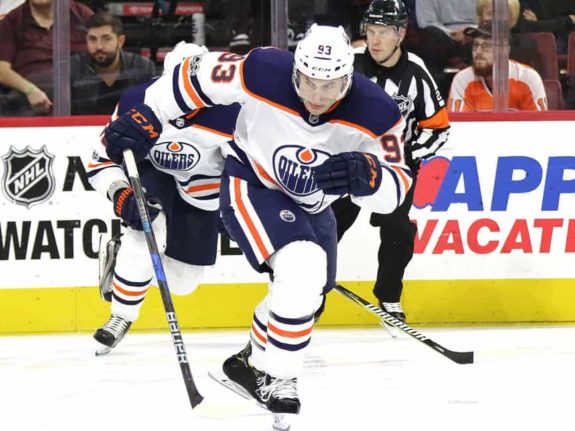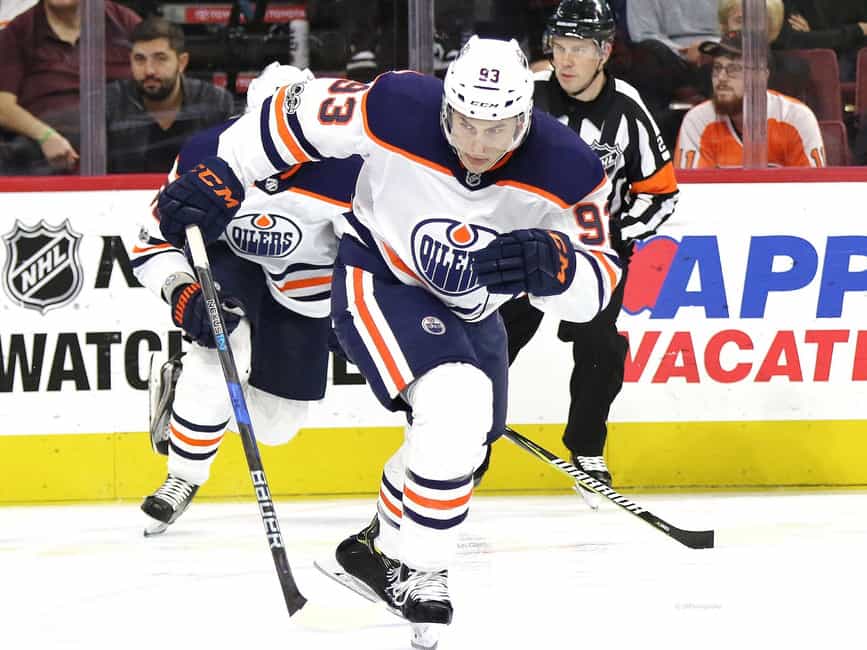 In addition, Panarin's tendency to dominate the puck and drive his line's offense means he doesn't need to play with a great center, and he generally hasn't throughout his six-year career. If Zibanejad's future includes Lafreniere and/or Chris Kreider on his line, the Rangers' other top forward unit could consist of Panarin, Nugent-Hopkins and Kakko – with both of the Rangers' highly-drafted young forwards remaining in Blueshirts, rather than one having been sent away for Eichel.
Trade for Eichel Might Drain Too Much Young Rangers Talent
Add in a third line centered by a rising Chytil, one that could also feature Kreider or Pavel Buchnevich, and that's a deep young lineup – again, considerably deeper than it would be if the front office decides it has to have Eichel. That lineup would also be guaranteed to include Miller, who of course might not be part of a trade to the Sabres but who would certainly be a prime target for their front office in any deal.
The time in the rebuild is approaching when Gorton will look to make a major trade. All of the young assets brought into the organization since February 2018 can't play on Broadway. There aren't enough spots.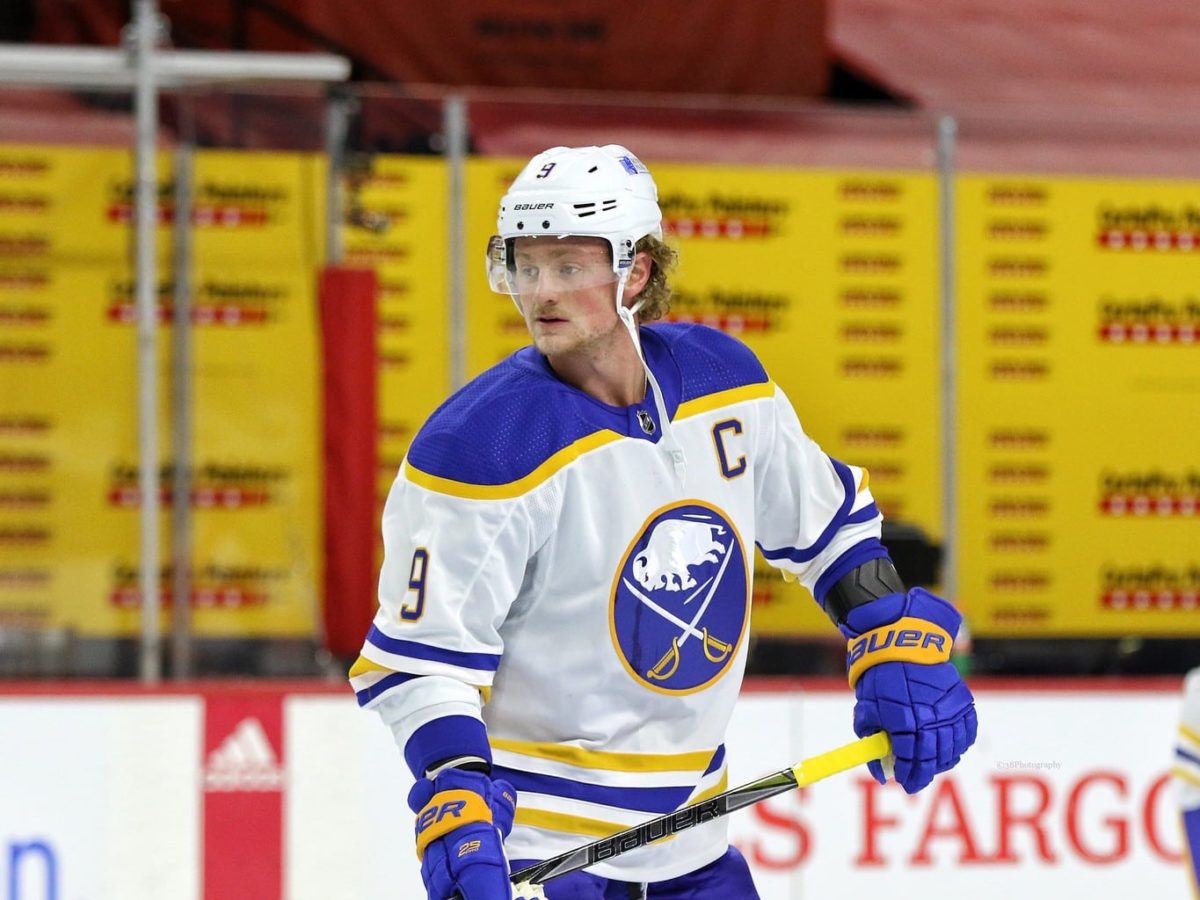 Yet there exists the danger of going too far, of tearing down a now-envied NHL roster that needed to be rebuilt, and a feeder system that had to be restocked with talent after years of neglect left the cupboard bare at the minor-league level. Executing a blockbuster trade for a young superstar center might prove to be the right next move, but one would hope Gorton will weigh the exorbitant price tag of such a transaction and wonder if, at the end of the day, he'd actually be setting the Rangers back.
Signing Nugent-Hopkins, a considerably less splashy option than trading for Eichel, nonetheless might turn out to be the better path forward. Being thorough in the pursuit for more talent at center, the organization's most pressing need, while leaving intact the young core means the Rangers GM should at least consider it.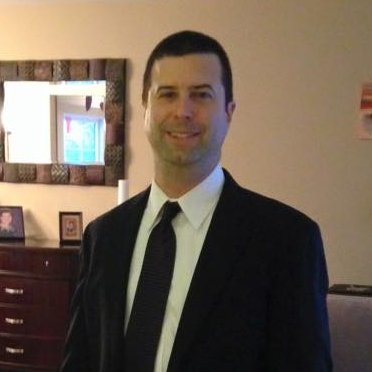 I'm a resident of the Chicago area by way of White Plains, NY. I worked for the Associated Press sports department in New York City for 10 years before moving to the Midwest in 2005, when the AP's then-internet division entered into a joint venture with STATS LLC. I worked for STATS for 11 years, until 2016. I'm very excited to be a part of The Hockey Writers.