After a tumultuous opening night loss to the New York Islanders, which saw a Semyon Varlamov shutout and a completely lackadaisical effort lead to a 4-0 result, the Rangers bounced back in a big way on Saturday. They completely flipped the script, returning the shutout and dominating the Islanders in all facets of the game, winning by a score of 5-0 (from 'Rangers provide tantalizing glimpse of what they can be', NY Post – 01/16/21).
There was a collective ire towards David Quinn after the Rangers game one defeat, with a palpable tension amongst fans and the head coach. His quick trigger with mixing up line combinations led to a lack of chemistry during the season opener. His decision to scratch Tony DeAngelo while bumping Jack Johnson up to a pairing with Adam Fox stunned the fanbase.
But hindsight is 20-20, and when reflecting, those decisions paid off. Johnson had a more limited role and played much smarter. Fox had an excellent game playing alongside him, and Brendan Smith, who slotted into DeAngelo's vacancy, looked very crisp in his first outing of 2020-21.
The defense was not the only part of the lineup altered over the 48 hours between games one and two. Quinn swapped Kaapo Kakko with Alexis Lafreniere after struggling in the opener. Phillip Di Giuseppe came in for an injured Kevin Rooney, and Brendan Lemieux took Kakko's spot on the second power-play unit.
Kakko would score his first goal of the season, a surefire confidence booster for the 19-year-old. Lafreniere looked good as well, firing three shots on goal and finishing with a plus-3 rating. So what do we make of these opposite results just two days apart from each other? Let's dive in!
Get Ready for a Bumpy Ride
Splits over the first two games of the season seemed to be commonplace around the NHL, proving just how hard it is to beat the same team two times in a row. We saw the Colorado Avalanche bounce back after a 4-1 loss with an 8-0 win, and the Rangers followed that blueprint to a tee.
If the first two games are any indication, this season will see a playoff battle until the end, with the team's alternating wins and losses against the same seven opponents. There is a razor-thin margin between the eight teams in the East Division, leading to some great nightly battles.
Although the odds of the Rangers and Islanders' next six meetings featuring lopsided scores are low, look for the two teams to rotate which side looks crisper, with both splitting the remaining six matchups.
Rangers' Vets Stepped Up
We all knew that for the Rangers to have a bounce-back performance after a brutal opening night loss, the veterans would have to shine. On Saturday night, they did just that, as Artemi Panarin, Pavel Buchnevich, and Mika Zibanejad all had significantly better games.
Buchnevich was ultra-impressive, looking to the net constantly and firing home two goals to go along with an assist in the 5-0 win. After reports circulated about his amazing training camp, he showed how puck hungry he is this season in the victory.
Panarin did on Saturday what he did all of last season. He propelled the Rangers to new heights, scoring twice in the win. The season opener was arguably his worst as a Ranger, but he bounced back significantly, showing he still is the Hart-caliber player we saw for 70 games last season.
Although Zibanejad didn't find the back of the net, his one assist set up Buchnevich's opening goal, giving the Rangers momentum just over two minutes into the game. More importantly, he won 50% of his faceoffs or more for the second time in as many games. If he can become dominant in the faceoff circle, Zibanejad will be a complete weapon for the Blueshirts.
On the Rookies' Rocky Road
All of the Rangers' young players looked rather sluggish in Thursday's 4-0 loss, as did the whole team. Kakko looked timid, not asserting himself and avoiding the ice's tougher areas. K'Andre Miller had a couple of jitters and miscues, as did Lafreniere, something that will happen with two first-year players.
All of them looked infinitely more comfortable in the second game of the season, with Kakko scoring, Lafreniere generating opportunities, and Miller playing sturdy on defense. It was a complete 180 from their opening night effort and a much-needed surge of confidence for this young Rangers squad.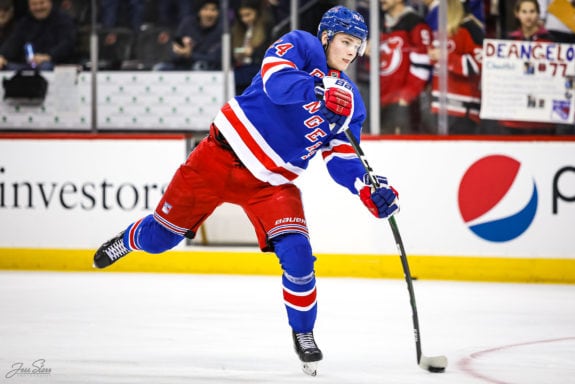 If the Rangers want to compete for a postseason berth, these three players will have to play beyond their years and produce. Saturday's win showed signs that all three are poised to get better on a nightly basis.
Goaltending Carousel
Igor Shesterkin got the opening night nod, having a shaky first period before settling in rather nicely. Alexandar Georgiev got the start in game two, facing far fewer quality chances while shutting out the Islanders. It is no secret that the Rangers played significantly better in front of Georgiev, so it is unfair to make rash decisions off of the two starts.
But with how the Rangers looked on Saturday and Georgiev's solid play in goal, he will likely get the nod on Tuesday night against the New Jersey Devils. Quinn said before training camp that they have a 1A and 1B, so it makes sense to see them ride the hot hand throughout the season.
Shesterkin stopped 29 of the 33 shots he faced, posting a .879 save percentage (SV%). Georgiev only faced 23 shots and stopped all of them, recording the shutout. Per Natural Stat Trick, Shesterkin faced 12 high-danger shots in his start, stopping 10 of them, while Georgiev faced just two in his.
While Georgiev held the fort down in the win, he truly had an easy night, similar to Islanders' goalie Semyon Varlamov in the opener.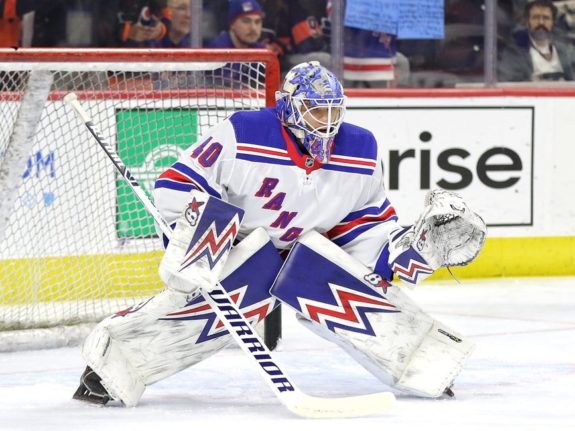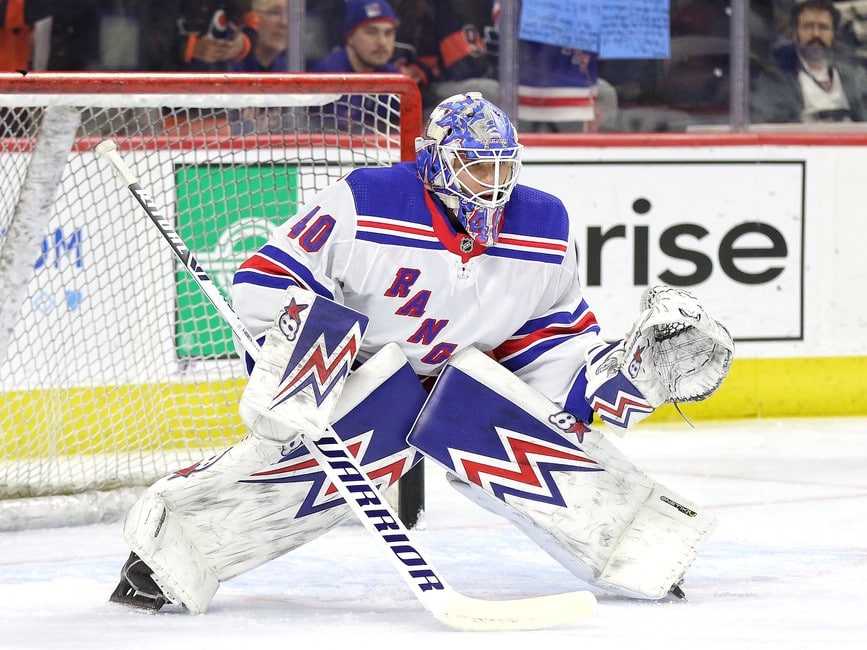 The Rangers hope to see more of the game two effort over the course of the remaining 54 games this season. It was a rocky start to the season, causing slight panic across Rangerstown. But the response on Saturday was excellent, stabilizing the heart monitors of the entire fanbase.
As the Rangers prepare for a battle with a Devils team who took the Boston Bruins twice to overtime, they will look for production from their young names hoping that the defense and veterans could continue where they left off in a 5-0 win Saturday night.
---
---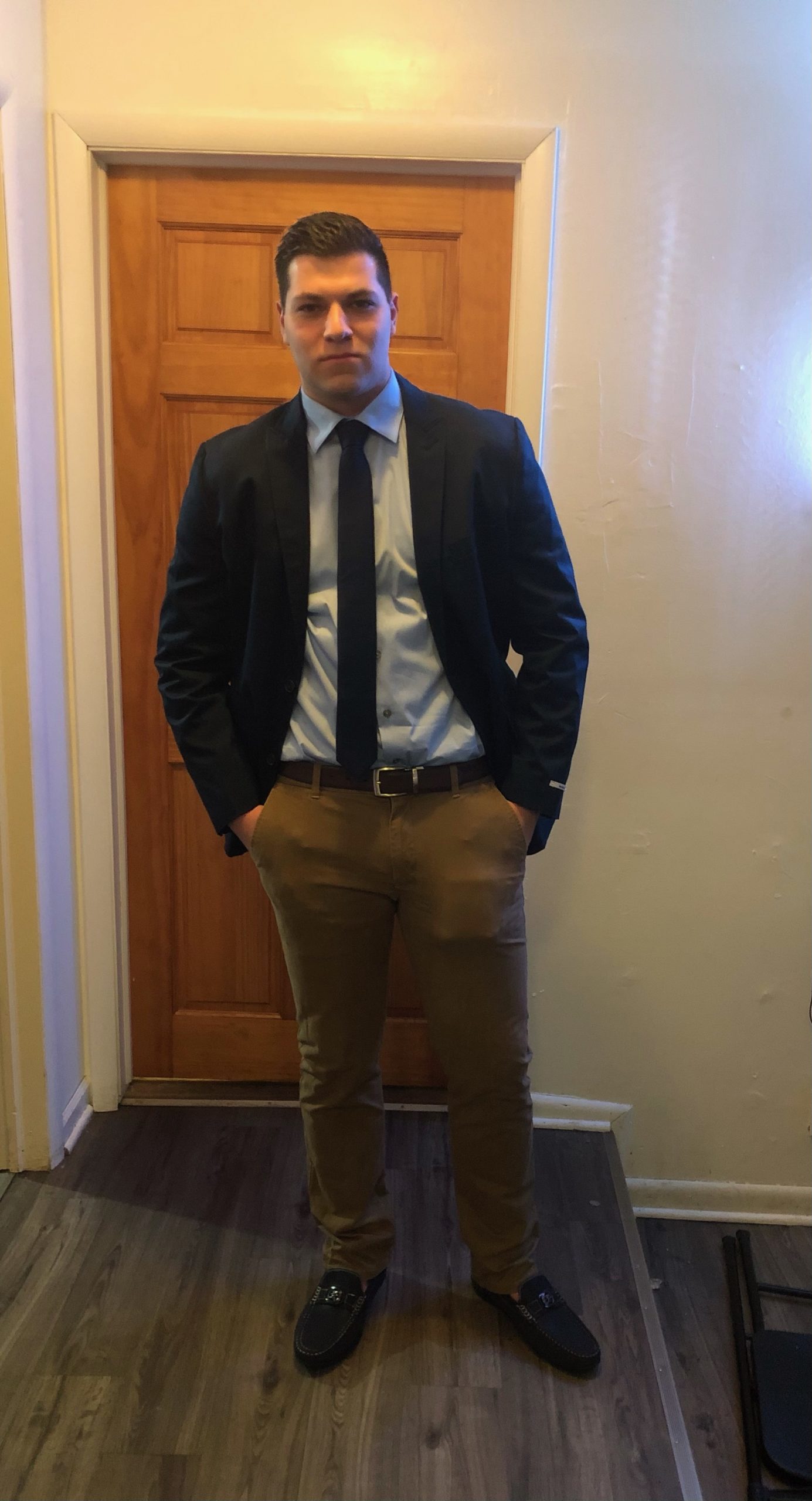 Brendan Azoff is a THW contributor and podcast host dedicated to covering the New York Rangers. His passion for hockey started when he first laced up the skates at three, growing into his love for writing and talking about the greatest sport in the world. His podcast, The Backcheck, breaks down the Rangers, Islanders, and NHL news and can be found on The Hockey Writers Podcast Network and Belly Up Sports. Brendan has been writing about the Rangers and the NHL for over two years, with his content also found on Puck Prose, Blue Line Station, and E2G Sports. If you want to connect with Brendan and stay up-to-date on his posts, follow him on Twitter. He is always available for content ideas and interviews, don't be afraid to ask!