In the early goings of their time with the Dallas Stars, the team's rookies have been making a name for themselves, specifically forward Ty Dellandrea and goaltender Jake Oettinger. While the Stars' season hasn't gone how the team has wanted it to (especially recently), the development the team has seen from their rookies has been a bright spot.
Ty Dellandrea
While Dellandrea has been circulating on and off of the taxi squad, he's made the best of his time on the active roster. With Seguin being out, head coach Rick Bowness has had to rely on other players to fill his spot until he can return. Dellandrea has been one of those guys, and he's taking advantage of the opportunity Bowness has given him.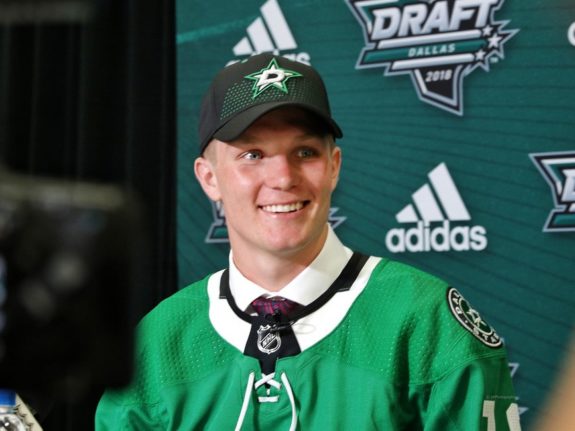 When Dellandrea has played, Bowness has used him in almost every situation possible. He's been on the ice for key penalty kills, power plays, and faceoffs, and he hasn't disappointed yet. We rarely see somebody so young who has already earned the trust of Bowness, but it seems Dellandrea has. He's been consistently good for the team so far, and is playing with confidence we don't normally see in rookies.
Aside from his confidence, his versatility and physicality have been crucial to his success thus far. Bowness has been slotting him into various lines, situations, and forward positions, and for being so young, he's done extremely well. His ability to adapt at such a quick pace has been incredibly helpful to the team, especially when they have one of their best forwards like Seguin sidelined as he rehabs from offseason surgery.
It's clear to see he's also had an impact on his teammates in the short time he's been with the team, as captain Jamie Benn dropped the gloves with Nikita Zadorov after he had an exchange with Dellandrea. He has an extremely bright future and the potential to do really well with the team. There's no doubt in my mind that he's a player who in a few years could be one of the best forwards on the Stars' roster.
Jake Oettinger
With Ben Bishop recovering from an injury and Anton Khudobin slotting into the starter role, Jake Oettinger has gotten an incredible opportunity. It's not often we see rookie goalies given opportunities like the one he's received. Much like Dellandrea, Oettinger also hasn't let the opportunity pass him up and is fully taking advantage of it.
In the five starts he's had so far this season, he has two wins and three overtime losses, with a save percentage (SV%) of .910%. While the three overtime losses don't look great on paper, he played quite well in all three games, but at the end of the day, the team just wasn't able to get a win.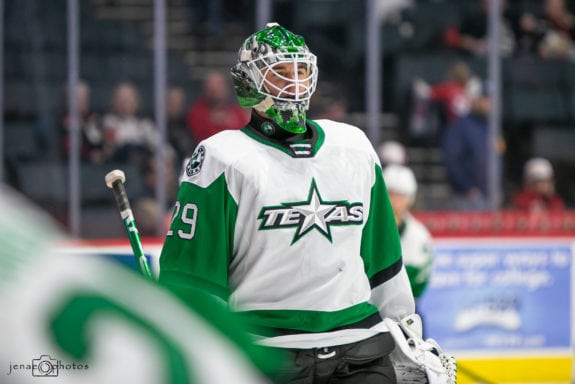 Everyone knew going into the season that Khudobin wasn't going to be able to start every game, which is why the team needs to be comfortable having Oettinger between the pipes. That's a lot of responsibility for a young goaltender with almost no NHL experience to take on.
However, he's taken that responsibility incredibly well, and honestly, he's played better than most people expected from a rookie netminder. It seems he's settled into the role he's been placed in and is feeling pretty confident in his abilities. After his initial two starts, he's clearly settled the very valid nerves that come with playing your first two NHL games and is already tracking the puck better and making those big-time saves.
Due to the current weather in Dallas, the Stars have had to postpone a few games for the safety of fans and players alike. Hopefully, soon enough, the young rookies (as well as the rest of the team) will be back on the ice continuing the development of their young careers.
Related: Stars' Losing Streak Put on Ice Due to Historically Low Temperatures in Dallas
What are your thoughts on the two rookies so far? Have they been impressive, disappointing, neither? Let me know what your opinions are!
---
---
Hi everyone, my name's Maddie Manfredi! I've previously covered the Boston Bruins and I'm excited to start a new chapter covering the Stars! I love writing and sports and I am excited to share my two passions with the world!